welcome 

remember: you can enlarge any entry by clicking on it so you can read and study it. to order any CDs-DVDs-LPs-BLUE RAY discs send email to: gunthampel@aol.com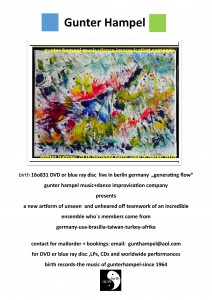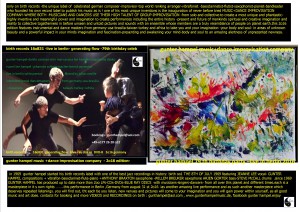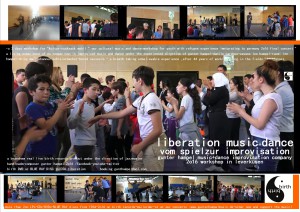 lecture at georgia augusta university in göttingen jan 13-16th: lecture 13th, 18 h -workshops 14th+15 th +concert of the gunter hampel music+dance improvisation company with danilo cardoso-bernd oezsevim-cavana lee hampel
more reasons to love the music of gunter hampel:
this is our latest/newest masterpiece—-birth DVD 15o831 ALIVE-THE GUNTER HAMPEL MUSIC+DANCE IMPROVISATION COMPANY live at the BALLHOUSE BERLIN GERMANY
invocation: jazz at the ballhouse in berlin germany gunter hampel's birthdayconcert (78) -: Even though this event was already a few weeks back i cannot stop to write and talk about IT : too impressing ,the audience was carried away with enthusiasm too exciting the rousing music-I am continuing in  having a still lasting effect on myself, i cannot be silent about it. I am talking about JAZZ I am talking about ART and above all about gunter hampel s music somewhere between SUN RA,CHARLES MINGUS and THELONIOUS MONK, I am talking about HAMPEL's COMPOSITIONS, the EXCHANGE AND THE TOGETHER PERFORMING with the OMNIVERSAL EARKESTRA;HAMPEL CONDUCTED WITH HIS COMPOSITIONS waiting and waltz for universes in a corridor and the 3 dancers,which surfed on their music ,sounds, counterparting the music,completing the music and illustrating the music,transforming the rhythms into their body-parts adding a further dimension ,being the rocking and rolling superstrings of evolving music tones and layers of the incredible music-band!   I am talking of movements,integrating expressive forms from Capoeira up to the classical ballet BECAUSE GUNTER HAMPELs M U S I C is a LANGUAGE !!!!! COMMUNICATING ON A L L LEVELS ,with itself,with each other and getting in a muddle resulting into an ecstasy which resolves in frenetic applause by the audience !!!!!!!!!!!!
from "mindblowing jazz-invocation -ballhaus berlin :the gunter hampel music+dance jazz-improvisation company with gunter hampel-danilo cardoso-magdalena dzeco-ruomi lee-hampel-johannes schleiermacher-bernd oezsevim    http://krautart.de/kunstblog/music/
Imvocation; jazz im Ballhaus/ Gunter Hampel's Geburtstagskonzert/ "Auch wenn dieses Ereignis bereits ein paar wochen zurück liegt,kann ich es nicht lassen,davon zu berichten: zu beeindruckend,zu mitreißend,zu nachwirkend um davonn zu schweigen.      Ich spreche von JAZZ und von KUNST und vor allem von Musik zwischen SUN RA,CHARLES MINGUS und THELONIOUS MONK von HAMPEL's KOMPOSITIONEN,dem Austausch und Zusammenspiel mit dem Omniversal Earkestra und von den 3 TänzerInnen,die auf den Klängen surften,ihnen widersprachen,sie ergänzten und illustrierten, die den Rhythmus in ihre Glieder verwandelten und den sich Superstrings gleich aufrollenden Tönen mindestens eine weitere Dimension hinzufügten.  Ich spreche von Bewegungen,die Ausdrucksformen von Apoeira bis zum klassischen Ballet integrieren,WEIL MUSIK EINE SPRACHE IST. Se kommuniziert auf allen Ebenen-mit sich selbst, mit einander und durcheinander bis zur Ekstase, die sich in frenetischen Applausen des Publikums Luft macht.
http://krautart.de/kunstblog/music/mindblowing-jazz-invocation-ballhaus-berlin
welcome
join,if you can this concert in BERLIN germany : august 31,2015
get our most recent 2 DVD set : (we ship worldwide)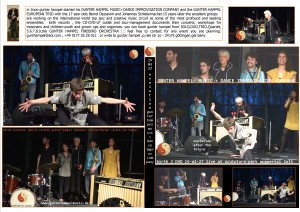 and book our incredible variety for your international musik festival, or concert, or to the most intimate club or occasion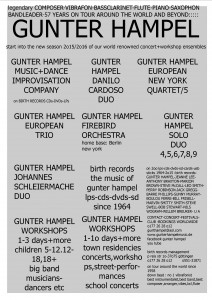 seek our entries on YOU TUBE/ GUNTER HAMPEL
BECOME A FRIEND ON FACEBOOK/ GUNTER HAMPEL and enrich your life with our (R)EVOLUTION——————we do it only for YOU…….
to the most amazing and most wonderfull artists you will find in my bands with which i am now gracing this planet since almost 6o years ! and which are represented on this site in forms of timeless music, dance ,poetry ,singing in pictures, on CDs- LPs and DVDs and words and sounds.for your enlightment, pleasure, and enjoyment. to dig the quality of this listen to my historic music of the 5o s and 6o s and listen to the newest music from today, from the NOW as the TIME embodies in our newest recordings and live concerts ,and find yourself being enhanced by their magic and beauty, because they sound as fresh, as if they were just now been recorded. the level of this artistic output is the highest because i make us perform as equal partners in a team with all of its responsibility and care and the goal: one for all, and all for one. we have developed very unique concepts which i call instant composing, instant conducting and naturally with the help of my unique and personal compositions and arranging which gives everyone involved enough ground to start developing to bring in their best and creativity, as we all know, has no limits, but the time in which it is created. our conscious and music is engaged into the NOW, when we play or record. i am graced , pleased and thankfull to have the honor and pleasure to present to you the best people i could find and pay in my life, and i am proud that in europe and the usa i have found such highly gifted people who all were willing to involve their body and soul to make this incredible catalog of original music and dance possible in being part of the gunter hampel family . enjoy. it is all here for you.
I create new compositions, no one has played before us, so we are starting something new , we build up a new repertoire, a new spectrum, the gunter hampel music, for improving bands like ours, for NOW and the future,  that is what Louis Armstrong did, Count Basie, or Charly Parker, or John Coltrane,  we play my new  compositions, experience them  and we improvise fresh within the moment we perform. you think this is not possible? watch us and listen and be part of the dance. participate.  this is, what this whole website is for: to introduce you to new material, my compositions and the phantastic results my bands can achieve when playing this new, fresh stuff of being in the NOW ! my compositions are just starting positions for each performer. our task is, everytime we play, to get together like the great TEAMWORK of german soccer TEAM Borussia Dortmund, they are the perfect incarnation of a real jazzband -one for all and all for one- we can kick in our own creations, improvisations,ideas, from listening to each other and then move to our collective playing.we are NOT interpretating any broadyway tunes, we all are throwing everything from what we got, body and soul ,personality in our cutting edge creations every time we perform.and let me remind you , our creations are timeless. listen to my stuff from years ago , sounds, like it just got recorded.
our current tourdates you find on TOURDATES , a list of all CD-LP-DVD- recordings on birth are on the COMPLETE CATALOG -inside BIRTH RECORDS , and note , that you can enlarge almost every entry on this blog, by clicking on it. to book us go to BOOKING  etc.
BIRTH RECORDS: you can order -CDs-LPs-DVDs directly by sending an e-mail : gunthampel@aol.com  .     state your order and home-country and we figure out the bill, incl mailing……….
THE GERMAN COMPOSER-BANDLEADER- VIBRAPHONIST-BASSCLARINETIST-FLUTIST-SAXOPHONIST NOT ONLY HAS WRITTEN WORLDWIDE JAZZ-HISTORY IN INTRODUCING THE GUNTER HAMPEL MUSIC TO THE JAZZ-EVOLUTION BUT ALSO THE WAY HOW TO PLAY THE VIBRAFON-BASSCLARINET-FLUTE-SAXOPHONE +A WHOLE NEW CONCEPT HOW MUSIC CAN BE PLAYED FROM SOLO TO COLLECTIVE ENSEMBLES:"HIS MUSIC IS A UNIQUE PHENOMENON IN THE WORLD" ( Coda-jazzmagazin-USA)HIS EVOLUTIONARY BANDS FROM 1958 TILL 2o14 HAVE WRITTEN JAZZ-HISTORY AND STAND AS A MODEL FOR INSPIRATION FOR THOUSANDS OF MUSICIANS WORLDWIDE:
 "b-flat ankündigung vom 23.oktober 2o14:
NUR WENIGEN IST VERGÖNNT ZU ERLEBEN,WAS GUNTER GESCHAFFT HAT: ER IST SOWOHL AUF DEM ALTEN ALS AUCH AUF DEM NEUEN KONTINENT GESCHÄTZT,UNUMSTRITTEN ANERKANNT,BERÜHMT. FÜNF JAHRZEHNTE PRÄSENZ IN DER INTERNATIONALEN JAZZSCENE,AN VIELEN WESENTLICHEN ENTWICKLUNGEN BETEILIGT.
der club war voll und b-flat sagte: du kannst jederzeit hier spielen! und wir haben ne doppel CD und doppel DVD  birth 141o23 GROWTH !GUNTER HAMPEL EUROPEAN-NEW YORK QUARTET
the birth-evolution continues……………………
since 45 years the birth records label continues
to be active in the EVOLUTION of jazzmusic. the ensembles
of jazz icon and innovator , composer and bandleader
GH continue to create in steady ensembles the ongoing
evolutionary process of collective group playing. combined
with the unique compositions they keep the flame of the evolution alive and bring the most exiting music of this
century live and on CDs,LPs  and DVDs to the people . .
 if you want to subscribe to our NEWS-letter send us your e-mail please. also for producers, we will send you our scheduled concert tour dates. for bookings
gunthampel@aol.com
BIRTH RECORDS  P.REIS STR. 1O
37O75 GOETTINGEN tel O551- 31871– O177 26 28 O12 GERMANY / facebook / youtube/
"Gunter Hampel continues to be active at jazz-leading edge" all about jazz new york 
"Each new CD and DVD are bulletins from the frontline of jazz" all about jazz new york
last not least we want to mention and urge you to use it : nowhere in the world you have this unique option, we can offer you. we know, you would like us to come to your hometown, next to your neighbourhood and perform live for you :
WE OFFER YOU FROM ALMOST EVERY OF THE CONCERTS GUNTER HAMPEL GAVE AFTER THE INVENTION OF THE CAMCORDER- AROUND    1985  WE CAN SEND YOU A DVD COPY FROM MOST  ANY OF THE LIVE CONCERTs  !!!!!!!! ; YES 1 WE HAVE IT ON VIDEO: DEPENDING OF THE TIME YOU CAN ACTULLY SEE US PERFORM; MUSIC AND PICTURE !!!!!!!!!: LOOK AROUND AND SEE IF ANYONE CAN OFFER YOU THIS ! and if you are smart and connect your STEREO to your DVD player you can enjoy this unique offer. so even if you cannot make it to any of our concerts, you can get it to your home TV or STEREO !!and specially our newest live concert
can be sent to you !!! you do not miss out , even on your lonely island !!!!!! we will be glad to send you a list !!!!!!
again: you can get a video-filmed 2 DVD set from mostly any
of our concerts !!!!!!!! if you missed out a concert, like the recent amazing groundbreaking,mindboobling,incredible and sensational concert of the GUNTER HAMPEL MUSIC+DANCE IMPROVISATION COMPANY -it's only kind in the world !!!since the year 2ooo ! with GUNTER HAMPEL,THE INCREDIBLE DANILO CARDOSO dancer from RIO DE JANEIRO,the great PRINCE ALEGS, AND the new MAYA MAGDALENA a dance trio from unseen before unity grace and power, with the incomparable MUSICIANS like johannes schleiermacher and bernd oezsevim—-
we have it for you on DVD for all eternity and your pleasure.order now ! 2DVD set birth 14o13o RESURRECTION-
DIE AUFERSTEHUNG ! you have never seen anything like this.
the most beautiful and REAL, evolutionary and entertaining you ever have seen and heard.
+ any of the concerts we are constantly undertaking, off the commercial roads-real creative and real !!! order now !
send email to gunthampel@aol.com !!
do not waste time until you have been wasted too !!!!
constantly we add new masterpieces to this amazing catalog:
get the brandnew DVDs from the
GUNTER HAMPEL FESTSPIELE 2o14 in GÖTTINGEN+KASSEL  from january 27-31.of 2o14
+
GUNTER HAMPEL FESTSPIELE 2o14 in BERLIN from march 1o-12 th. 2o14 —-see under NEW DVD-RELEASES