our newest-our best ever-GUNTER HAMPEL MUSIC+DANCE IMPROVISATION COMPANY live at the BALLHAUS in BERLIN august 31 st 2o15 with GUNTER HAMPEL-DANILO CARDOSO-MAGDALENA DZECO-RUOMI LEE HAMPEL-JOHANNES SCHLEIERMACHER-BERND OEZSEVIM
CLICK ON THE PHOTO AND IT ENLARGES WITH THE DETAILS !remember: you order each item -DVD-or 2 DVDset-CD-LP from the birth catalog by email to gunthampel@aol.com.we will send you a bill +you decide and agree to send us the € or $ and we mail it to you-we have been doing this since 1964 .visit our live performances
du kannst jede unserer DVDs,2DVDset,CD,LP unseres BIRTH catalogs hier bestellen.sende uns eine e-mail an gunthampel@aol.com und wir senden dir eine rechnung+du entscheidest dich und schickst uns das geld auf unser konto in € oder $ und wir senden dir die super-musik.wir machen das seit 1964. komme auch zu unseren live-performances

comments on berlin festspiele 2o14          GUNTER HAMPEL-DANILO CARDOSO DUO !!!!!YES WE FINALLY DID IT THIS IS A LIVE-CONCERT DVD FROM THE AVANTGARDE JAZZ FESTIVAL IN HANNOVER FROM FEBRUARY 15th 2o14    !                                                                     

I just saw and heard the probably most incredible performance and ensemble i ever have witnessed in my life. the power and transparence and vibes of the GUNTER HAMPEL MUSIC+DANCE IMPROVISATION COMPANY in their most convincing ,challenging all known music and dance achievements in human history performance from january 3oth, 2o14 at the waldorf auditorium in Göttingen, as part of the 5th GUNTER HAMPEL FESTIVAL ! Hampel had been building up this ensemble with carefully selected talents and formed a unique TEAM of musicians and dancers, the likes which never had been heard or seen of before.amazingly enough , there never had been a MUSIC+DANCE IMPROVISATION COMPANY before. Dance companies, yes, music companies ,we do not know any, but never a MUSIC+DANCE IMPROVISATION COMPANY ! Anyhow ,Hampel has been working on a new relationship between dance and music. like in his worldfamous music ensembles, he included the dancers as interacting partners with his incredible talented musicians. and it works. brilliantly. the company exists since 14 years, have performed in europe -the usa and are constantly proceeding performing fresh and new material and improvised sequences of unseen and unheard unity, beauty and grace and meaningfull expressions as Hampel has always been expressing as his jazzrootes in presenting the "body,soul and spirit" of the human being. this performance is the ultimate achievement of what an gunter hampel-ensemble ever has brought onto a stage and i think that this is a great,great masterpiece performance, an opera of life and gives the new millenium a goal welcoming the human society to live together with a sound and clear spirit and care.
this double DVD keeps me breathless and furthermore, the more i see and hear it again, the stunning richness of expressions make my senses clear and heal my consciousness.  this 2 DVD-RESURRECTION is probably the biggest achievement or at least the latest biggest achievement of composer,bandleader and multi-instrumentalist Gunter Hampel. He has been creating for the last 5o and more years already countless evolutionary masterpieces in music. the creativity and the joy of creating this music+dance piece is like a fresh opera. each participant, the musicians and the dancers are a big family together!incedible, encouraging, a real turn on ! breath taking performance !
birth 2 DVD RESURRECTION live GUNTER HAMPEL MUSIC+DANCE IMPROVISATION COMPANY live at the 5 th.GUNTER HAMPEL FESTIVAL Göttingen,Germany from january 3oth, 2o14 live at the waldorf auditorium Gunter Hampel ,composer, instant conducting, instant composing, bandleader,vibrafon,bassclarinet,piano + flute, Danilo Cardoso dance,Prince Alegs dance,Magdalena Dzeco dance, Cavana Lee Hampel voice, Johannes Schleiermacher tenorsaxophone, Bernd Oezsevim dm. filmed by Necati Pala
this is our newest birth 2 DVD 14o13o AUFERSTEHUNG/RESURRECTION
THE ULTIMATE  live performance of the GUNTER HAMPEL MUSIC+DANCE IMPROVISATION COMPANY featuring GUNTER HAMPEL-DANILO CARDOSO-PRINCE ALEGS-MAYA MAGDALENA-CAVANA LEE HAMPEL-JOHANNES SCHLEIERMACHER-BERND OEZSEVIM   you find here a german and english recension from a witness ,writer Udo Hinz who has been following the GHM+DIC since it's beginning, in the year 2ooo playing and dancing the music+dance of the new millenium. for the moment you can buy the 2 DVDset, send e-mail to  gunthampel@aol.com.
gunter hampel -steve swell – cavana lee hampel -live at WKCR RADIO NEW YORK CITY december 22 nd 2o13 a most remarkable trio recording continuing the great trio recordings -live on birth records- like jeanne lee-anthony braxton and gh- or gunter hampel with jeanne lee and perry robinson – ll highlights in the birth catalog !

here is the newest birth CD 131222 HOLY LIGHTS+HUMAN RIGHTS with

GUNTER HAMPEL flute+vibrafon, CAVANA LEE HAMPEL voice , STEVE SWELL trombone
live at WKCR COLUMBIA RADIO STATION new york city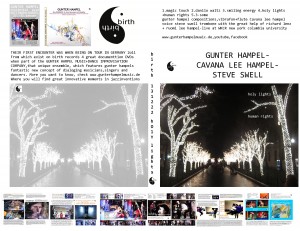 here our new BIRTH 131211-1+2 DVD GUNDAN -synchronized real love
  the formidable -one of a kind
 GUNTER HAMPEL-DANILO CARDOSO MUSIC+DANCE IMPROVISATION DUO 
FEATURING a very recent superb  flute-dance live Duo performance, the titel track from a concert in Bochum ,december 5 th,2o13 ! or with the brandnew
 GUNTER HAMPEL GERMAN TRIO "MAGIC TOUCH" ,with julius gabriel sax and karl degenhardt drums ,here mostly concentrating on excerpts from the phantastic live concert in DUISBURG ,on december 8th 2o13
+ a lovely track from the childrenworkshop in Bielefeld, where Danilo was teaching over the vibes-drums sax improvisations of hampel-schleiermacher-oezsevim
 and a masterpiece  of the full
 GUNTER HAMPEL MUSIC+DANCE IMPROVISATION COMPANY with co dancers prince alegs + maya magdalena and the band with johannes schleiermacher, cavana lee hampel-bernd oezsevim.
order now , by email to gunthampel@aol.com
click here to see this incredible
DUO performance by GUNTER HAMPEL+DANILO CARDOSO
as been found on YOUTUBE
click the youtube link and see a 8 minute excerpt you will never forget !
to enlarge items by clicking on them !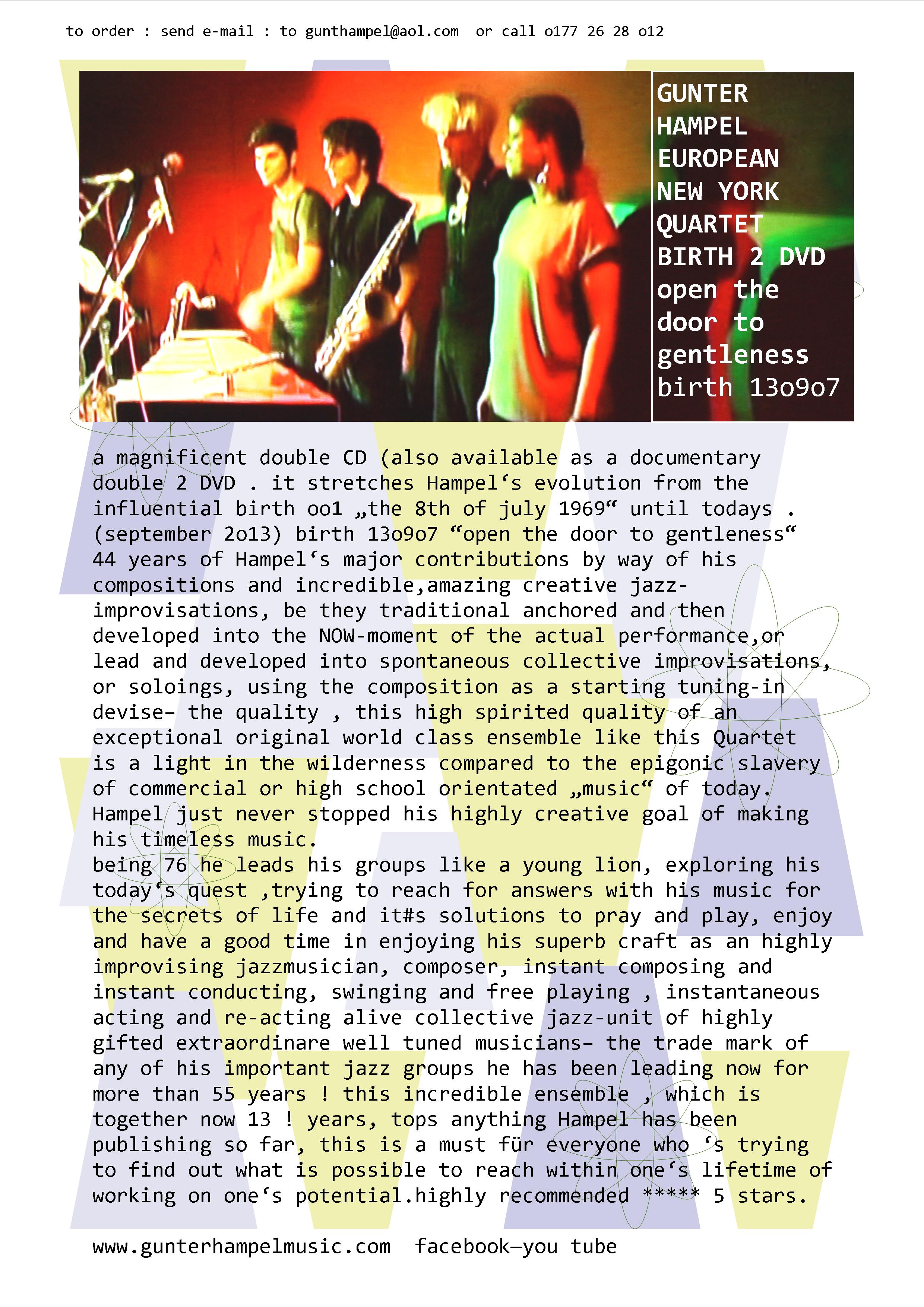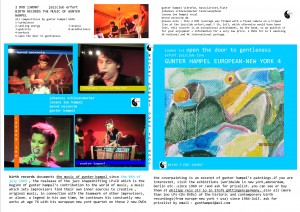 DVD birth 131o2o JOURNEY TO THE WISDOM OF THE COSMIC MIRROR    
              a vibrant live creation concert with participants of a 3 days music+dance workshop in bielefeld from  oktober 2o,th 2o13    with the GUNTER HAMPEL MUSIC+DANCE IMPROVISATION COMPANY  featuring  GUNTER HAMPEL bassclarinet,vibrafon,concept +compositions    DANILO CARDOSO dance  MAYA MAGDALENA dance  CAVANA LEE HAMPEL voice+percussion  JOHANNES SCHLEIERMACHER tenorsophone + percussion                BERND OEZSEVIM drums+percussions    + participants of the children+youth workshop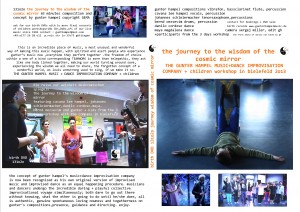 order by sending birth number +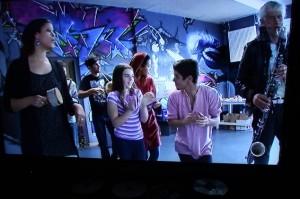 titel in email to gunthampel@aol.com we will send you a bill and then you decide -enlarge the pic by clicking on it
the newest masterpiece:
 birth 2 DVD 131o18 RECONNECTION TO THE NOWNESS OF REALITY
GUNTER HAMPEL MUSIC + DANCE IMPROVISATION COMPANY
THE brandnew masterpiece of the most unique ensemble in the history of jazz and dance, achieving the almost impossible unity of gestalt-ing spontaneously improvising
collective ensemble, solo, duo, and group works of the highest caliber.highly recommended. you have never heard or seen anything like it, unless you have been following the progress of hampel's ensemble over the last 13 years. ***** 5 stars !