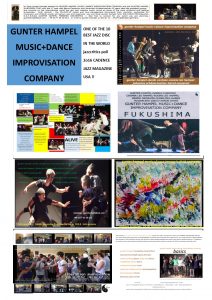 remember ! you can ENLARGE ANY ITEM ON MY WEBSITE by clicking on it ! it is fun !!!
a great 2o15
on our most recent concert in duisburgwestgermany we had a        packed house and dancer danilo cardoso made them dance !!!!!!!!!!!!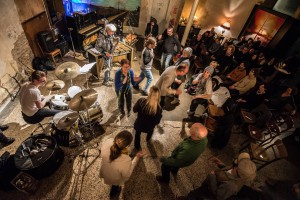 this newest -live-  2 CD release of the GUNTER HAMPEL EUROPEAN-NEW YORK QUARTET from BERLIN  ,featuring cavana lee hampel voc-johannes schleiermacher ts-bernd oezsevim dm and GH vibes,bcl,fl,balafon  is dynamite and represents the band, which is since 14 years together, at their best. highly recommended !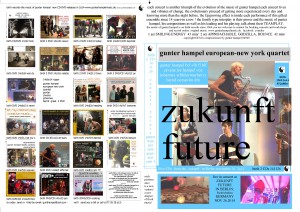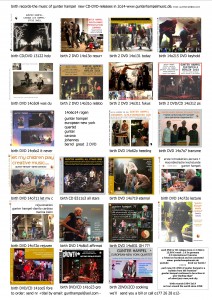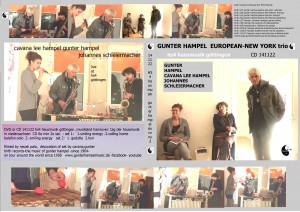 EACH NEW DVD or CD SET OF A NEW CONCERT IS A MASTERFUL CONTINUATION OF OUR ONGOING MUSIC DEVELOPMENT. I HAVE SET UP OUR PERFORMANCES THAT WAY AND ADDING NEW VENUES OF COLLECTIVE AND SOLO WORKS INTO OUR SPONTANEOUS PROGRAMMS WITH THE NECESSARY ARRANGEMENTS OR COMPOSITIONS OR DARING-HEAD OVER JUMPS INTO OUR TIME LIMITATIONS: IT#S BEEN FUN TO WORK WITH THESE GIFTED PEOPLE:SEE YOU AT OUR CONCERTS OR MEET YOU AT YOUR TURNTABLES: ENJOY!
newest set of CD+DVD gunter hampel european trio with johannes schleiermacher ts -bernd oezsevim. after 14 years of steady evolution they come up with another masterpiece-one of a kind- "forever young"  birth 141oo5 CD+DVD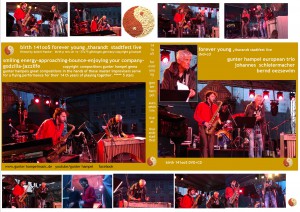 this is our newest-latest live concert video 2 DVD release from the badehaus in berlin friedrichshain-from august 31 st 2o14 ! brandnew !  are you missing the evolution of jazz since the lately takeover of the commercial record companies? ,tune in, this is the most enjoyable 2o14 release of the GUNTER HAMPEL MUSIC+DANCE IMPROVISATION COMPANY going strong since 14 years -authentic music of today-we sell ,mailorder 2DVD units. send email to order ! click to enlarge for details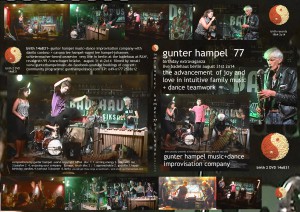 upcoming: AUGUST 31 st in BERLIN 2o uhr/h – 22 uhr/h      @ BADEHAUS SZIMPLA  BERLIN-FRIEDRICHSHAIN REVALER STR 99 NEAR  RAW  WARSCHAUER BRÜCKE (U) COME EARLY
 GUNTER HAMPEL 77th BIRTHDAY DASH LIFE CONCERT featuring the breathtaking GUNTER HAMPEL MUSIC+DANCE IMPROVISATION COMPANY :
GUNTER HAMPEL-DANILO CARDOSO-CAVANA LEE HAMPEL-RUOMI LEE HAMPEL-JOHANNES SCHLEIERMACHER-BERND OEZSEVIM +                                                      
SURPRISE GUESTS
from hampels illustrious more than 6o years carriere from a german boy composer ,bandleader and multi instrumentalist-vibrafon-bassclarinet-flute- bariton(tenor-alto)saxophon-piano-drums,to a world-leading jazzfigure who has established his GUNTER HAMPEL MUSIC as a most creative JAZZ and MUSIC STYLE in the homeland of jazz , in NeW YORK ,the USA and worldwide ,forming  teams of players to play and improvise in multiple collective creative and joyous improvisational -SENSATIONAL TEAMWORK ! more than 2oo LPs-DVDs-CDs on birth records ! from 1964-2o14 and more coming…..