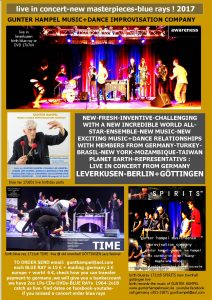 my LPs-CDs-DVDs are for sale-you can order them by email: gunthampel@aol.com.we will send you a bill and you decide. we deliver worldwide. you can click on any entry,it will enlarge and give you more details. enjoy. for a complete, 1964-2o17 -up to date list send email please.enjoy-for more new CDs-DVDs-LPs-BLUE RAYS see also at NEW CDs-LPs-DVDs SECTION
with each published recording, be it recorded  in a studio, or live in concert,on LP- CD or DVD or BLUERAY DISC you get a "life-long" treashhold you can listen to and discover in each listening something new you had not heard before,in fact each composition and it s performances  are from such quality that it withstands time and is a manifestation of endless healing power and inspiration that our music is a fountainhead of spiritual energy force which nourishes anyone with ears and brains a heart and consciousness.
this is IT our newest,our latest creation the dynamic complete concert "live"
birth DVD or BLUE RAY 17o7o4
awareness   
the GUNTER HAMPEL MUSIC+DANCE IMPROVISATION COMPANY featuring
GUNTER HAMPEL-DANILO CARDOSO-CHIN MEI-MAGDALENA DZECO-CAVANA LEE HAMPEL-RUOMI LEE HAMPEL-JOHANNES SCHLEIERMACHER-BERND OEZSEVIM             live at the KAW
——————————————————————————————————————————
on 2 DVDs
birth 2 DVD or/and 2 CD: EVOLUTION . AFTER THE FUTURE .
GUNTER HAMPEL MUSIC+DANCE IMPROVISATION COMPANY
gunter hampel-danilo cardoso-cavana lee hampel-johannes schleiermacher-bernd oezsevim
above
there seems to be a strong interest in my recordings from new york in the early seventies GALAXIE DREAM BAND with the great JEANNE LEE + the big band CD CAVANA ,our daughter,so we got a couple of copies waiting here for you (both as CDRs available
new entry april 7th-2o14:
the recor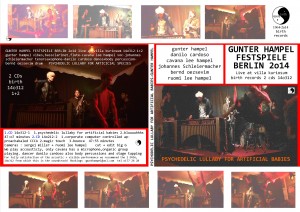 dings of the
gunter hampel festpiele in göttingen und kassel 2o14
+
the
gunter hampel festspiele in berlin 2o14
are by far the best recordings  i have done in my life
the togetherness of
of my band
with
johannes schleiermacher ts,
 cavana lee hampel
-bernd oezsevim and
 danilo cardoso
+ prince alegs and magdalena tzeco in göttingen and kassel
is superb and getting better each time we play and perform.
both, the CD as well as the DVD recordigs each stand on it's own and are proof to the fact, that my way of buildig up my bands are working.
the unit
GUNTER HAMPEL MUSIC+DANCE IMPROVISATION COMPANY
is the crown jewel of my work and  achievements and i am thankfull to the creator for guiding me and letting me in to the secrets of life, love and music and dance,body and soul, to give this great cultural wisdom to anybody with ears and eyes and feelings and spirit and love to find at least a heaven in the human spirit and love we all share, no matter who we are. we are all one and my hope is, that the understanding and share and taking care of all of us could be so well done as in my bands
which are together since decades and unite all th e living and already passed away personalities and great artists and most of all their creations to pave the way that one day i would be able and ready to
present this music and dance improvisation company to share with the world.my thanks go from louis armstrong,duke ellington,thelonius monk, to abbey lincoln,max roach,charles mingus, eric dolphy , jeanne lee, archie shepp ,marion brown, steve mcCall,anthony braxton,albert mangelsdorff,manfred schoof,thomas keyserling, shaun vargas,and everyone who has been the last 6o years playing in my bands.
and i hope, that johannes schleiermacher, cavana lee hampel, bernd oezsevim and danilo cardoso, our latest addition will have a long and prosper life to share their incredible gift with this universe and we will have many more concerts and recordings to continue from where we are now. here.
i extend these thankfullness to
ruomi lee hampel
sergej miller
necati pala
for their recording and filming conrtibutions
may be one day we can have better equipments
or more attention of the media
to record us properly
but i am thankfull
i got this all together
for sharing it with you.
gh April 7th, 2o14
berlin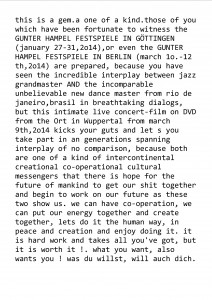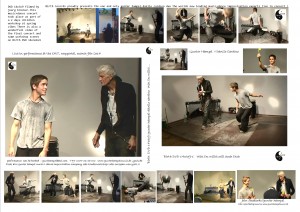 these new releases of the ever growing
GUNTER HAMPEL MUSIC+DANCE IMPROVISATION COMPANY
are BEYOND WORDS.
just get them and enjoy
and come to our concerts, if you can.
there are clips around on this website as well as on youtube and facebook.
this birth 2 DVD set 131018 RECONNECTION TO THE NOWNESS OF REALITY                       is my newest performance with my most unique
GUNTER HAMPELMUSIC+DANCE IMPROVISATION COMPANY
and features my long time ensemble with PRINCE ALEGS,MAYA MAGDALENA, CAVANA LEE HAMPEL-JOHANNES SCHLEIERMACHER-BERND OEZSEVIM our latest edition to the gang DANILO CARDOSO dance FROM RIO DE JANEIRO.
THIS IS ANOTHER BREATHTAKING PERFORMANCE YOU DO NOT WANT TO MISS   :stay tuned for our upcoming live performances and get a fresh breeze for your eyes and ears.seeing and hearing this togetherness makes your hart jump with joy !
this is our record of the year!!
this is THE recording i had been waiting for, i had DREAMED about ,when i founded the music+dance improvisation company in the year 2ooo
THIS IS MY GIFT TO THE NEW MILLENIUM to all people!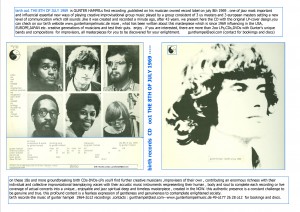 you can enlarge each entry by clicking on it !

we will be glad to send you an extra e-mail of a complete 

listing of all the 2oo recordings on BIRTH CD-LP-DVD which 

have been published since the initial and legendary 

birth CD-LP-oo1 THE 8TH of JULY 1969

featuring Hampel's 

famous compositions-+instant conducting and composing etc.

GUNTER HAMPEL vib,bcl.piano,fl
JEANNE LEE voc
ANTHONY BRAXTON as,ss,c-bclW
WILLEM BREUKER as,ts,bcl,ss
ARJEN GORTER bass
STEVE McCALL drums+perc    check our birth complete catalog section