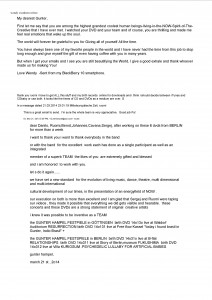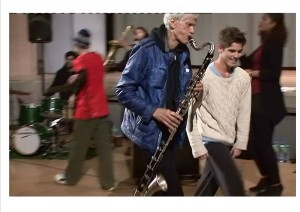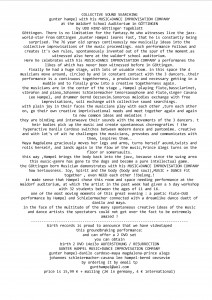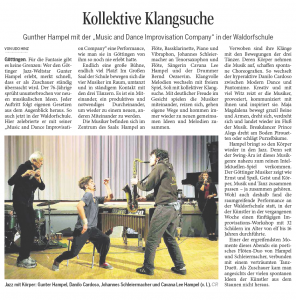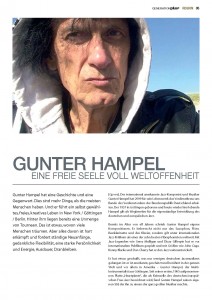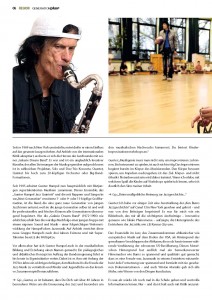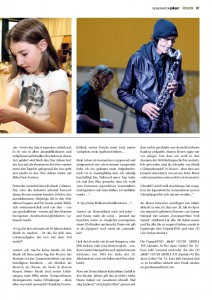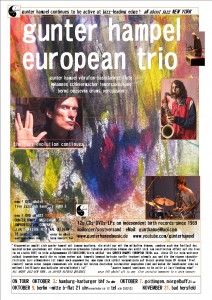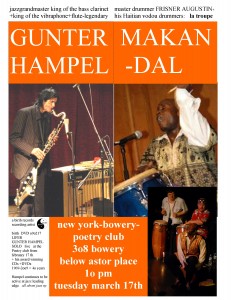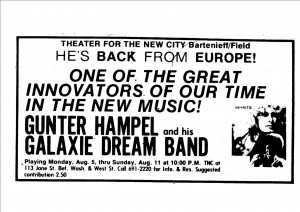 hi there.yesterday i found on google 32o ooo entries in the world wide net under <gunter hampel<, so there are  plenty of honest and respectable informations you can get elsewhere. We are concentrating on what is available for us for your enlightment und how to use, to listen or feel or dig our humble tryings to connect you to yourself and the treasures you have inside of you and make you aware of the tremendous importance of your existence in connection with all other life forms around. here on earth and anywhere else. dig in.
my mentor , Louis Armstrong said : " how about listen to old pops-for a minute-it seems to me-it ain't the world-that is so bad-but what we are doing to it-and all I am saying,is-you see, what a wonderful world it would be-if only we would be given it the chance-love ,baby-love, that's the secret.-yeah-if lot's more of us loved each other we'd solve lot's of more problems-and then this world would be a better."
GUNTER HAMPEL : WITHIN OUR LIFETIME THERE ARE AND WILL BE GREAT PROBLEMS IN THE WORLD. BUT LET US MAKE SHURE THAT WITHIN OUR LIFETIME NO DISASTERS HAPPEN. WE CAN PREVENT THEM. IT IS UP TO US. WE CAN SAVE THE WORLD FROM SLAVERY AND DESTRUCTION, TO BEGIN WITH. THat IS WHY MY MUSIC EXISTS. MUSIC IS A MILENNIA OLD WISDOM AND HUMAN AND UNIVERSAL AND SPIRITUAL REALITY : BY SERVING THIS WORLD WE CAN SAVE IT. BUT SAVING THIS WORLD IS NOT ENOUGH. WE HAVE TO WORK TO BUILD AN ENLIGHTENED HUMAN SOCIETY AS WELL:
RATHER THAN PRESENTING SOME UTOPIAN FANTASY OF WHAT AN ENLIGHTENED SOCIETY MIGHT BE, I PRESENT MY MUSIC ENSEMBLES AS UNITS MAKING PERSONAL AND TEAM PERFORMANCE- JOURNEYS TO FIND AND SYMBOLIZE  THE MEANING OF ENLIGHTENED SOCIETY AS PERSONAL JOURNEYS ON EARTH; WE CAN'T SIMPLY THEORIZE OR SPECULATE ABOUT OUR DESTINATION; WE REALIZE THE ENLIGHTENED SOCIETY IN OUR TOGETHERNESS IN MY MUSIC, IN MY BANDS, IN OUR LIVE-PERFORMANCES AND ON RECORD ( CDs-DVDs-LPs  etc).
IT IS MY HOPE THAT THE PRESENTATIONS I WAS ABLE TO PLAY IN MY CONCERTS AND PRESERVE IN MY WRITINGS ( COMPOSITIONS) AS WELL AS IN OUR PERFORMANCES , ( AS COMPOSER-BANDLEADER AND MUSICIAN),SAVED ON RECORD,MAY CONTRIBUTE TO THE DAWNING OF AN ENLIGHTENED SOCIETY AND HUMAN BRAVERY TO CONSTRUCT IT.
I AM THANKFULL TO ALL THE GREAT TALENTS WHO HAVE BEEN DEDICATING THEIR VOICES AND THEIR PERSONAL JOURNEYS INTO MY ARTISTIC VISIONS AND HELPED TO MAKE OUR VISIONS INTO THE GREAT REALITY AS OF WHICH IT IS BEEN RECIEVED AND RECOGNIZED WORLDWIDE.
I AM WRITING NEW ORIGINAL COMPOSITIONS , WHICH NO ONE HAS PLAYED BEFORE US. THIS MAKES SHURE WE CAN PUT OUR LIVES INTO BRINGING THESE CREATIONS ALIVE AND CAN  PRESENT OUR OWN PERSONAL AND ORIGINAL VOICES INTO THE STRUCTURE.
TO BUILD UP NEW AND MORE AUDIENCES FOR THE FUTURE OF THE JAZZSURVIVAL WE HAVE TO TEACH CHILDREN, YOUTH AND GROWN UPS, HOW TO IMPROVISE, SO THAT THEY LEARN ABOUT THE FUN OF JAZZ IMPROVISATIONS:
AND DISCOVER ,THAT THE TOTAL JAZZMUSIC, WITH ALL IT's DIFFERNT STYLES IS A HUMAN SPIRITUAL ( BODY AND SOUL) NOURISHMENT FOR THE LIFE EXPERIENCE ON EARTH ! WE – THE JAZZ INITIATORS HAVE WRITTEN, RECORDED AND … PERFORMED THE MUSIC FOR THE ENLIGHTMENT OF MANKIND: WE HAVE ENRICHED THE LIFE OF MILLIONS OF PEOPLE AND ARE LEAVING BEHIND A HUMAN EXPERIENCE OF COMPASSION AND AN ARCHITECTURE FOR THE COMMUNICATION AMONG US HUMANS AND THE CREATOR OF ALL LIFE IN THE UNIVERSE.LISTEN TO OUR MUSIC AND DRINK THE REAL LIFE FORCES OF ENLIGHTMENT BY LISTENING AND SHARING AND BE CONCERNED AND TEACH YOUR CHILDREN.
gunter hampel april 26,2o13s this.
MDR Figaro
Gunter Hampel – der Free-Jazz-Pionier und die Youngsters
Sendedatum: 31.08.12.
Autor: Bert Noglik
Einen Musiker, der sich in einem Alter, in dem sich andere längst zur Ruhe gesetzt haben, der aktuellen Improvisationsmusik und vor allem dem gemeinsamen Spiel mit jungen Leuten widmet, darf man "außergewöhnlich" nennen. Für den Vibraphonisten und Bassklarinettisten Gunter Hampel ist die Vermittlung von Jazz an Musiker jüngerer Generationen zu einer Lebensaufgabe geworden. Heute feiert er seinen 75. Geburtstag. Bert Noglik mit einem Kurzportrait des Multiinstrumentalisten Gunter Hampel: Der Free-Jazz-Pionier und die Youngsters.
——————————————————————————————————————————-
CD Gunter Hampel – European – New York Septet: Gentle Joy
Birth Records 1107281
CD 1
Track 3: Clean (1333)
K: Gunter Hampel
Gunter Hampel und sein European – New York Septet mit einer Einspielung jüngsten Datums. Mehreres erscheint auffällig: Der Veteran, ein Musiker, der längst zu den Idolen des Free Jazz zählt, arbeitet auf gleicher Augenhöhe mit ganz jungen Musikern und Musikerinnen. Im gemeinsamen Spiel entdecken sich beide neu: der Guru und die Next Generation. Gunter Hampel ist für die Jüngeren Ratgeber und Talent-Scout, eher Partner als Vaterfigur. Wie kaum einem anderen gelang es Gunter Hampel, Brücken zu schlagen – Brücken zwischen den Generationen, zwischen der Jazztradition und der neuen Improvisationsmusik, zwischen Amerika und Europa. bereits Ende der fünfziger Jahre wurde Gunter Hampel professioneller Jazzmusiker. Gunter Hampels musikalischen Aktivitäten umspannen mehr als ein halbes Jahrhundert. Stets ging es ihm darum, dem Jazz neue Freiheiten zu erschließen, allen Widerständen zum Trotz. Wie hält man so etwas durch?
O-Ton Gunter Hampel
Ausdauer, Energie und so eine tolle Musik zu haben, wie ich sie habe. Das sind die Ansporne, die dazu reichen, so etwas durchzuziehen.
Gunter Hampel zählt hierzulande zu den Pioniere des Free Jazz, er hat sich jedoch zugleich früh von den sich einschleichende Klischees dieer Musik gelöst und eine gänzlich eigene Klangsprache entwickelt.
O-Ton Gunter Hampel
Und da in den sechziger Jahren war bei mir zumindest der Wille, dass ich das, was in mir ist auch raushole. Ich wusste damals noch gar nicht, was da drin ist, sondern ich habe mein Potential eigentlich erst entdeckt im Machen, im Aufsuchen.
Aufnahmen mit Gunter Hampels Quintett "Heartplants" zählen zu den frühen Dokumenten eines eigene Wege gehenden europäischen Jazz. Seit Ende der sechziger Jahre pendelt der Vibraphonist, Bassklarinettist, Saxophonist und Flötist zwischen New York und Europa. Einige seiner prägnantesten Einspielungen entstanden in der Zusammenarbeit mit seiner langjährigen Lebensgefährtin, der afroamerikanischen Sängerin Jeanne Lee.
CD Gunter Hampel All Stars Jubilation
Birth Records 0038
Track 1: (No 161) Waiting
K: Gunter Hampel
Rund drei Jahrzehnte arbeitete Gunter Hampel in unterschiedlichen Besetzungen mit seiner "Galaxie Dream Band" – Musik, dokumentiert in Momentaufnahmen auf Hampels eigenem Label "Birth Records", auf dem heute auch seine Einspielungen mit den Youngster veröffentlicht. Nicht nur mit "Birth Records", mit der Vielzahl seiner Aktivitäten hat Gunter Hampel Pionierarbeit geleistet.
O-Ton Gunter Hampel
Und so haben wir eine Plattform geschaffen, in der, ich kann schon sagen, diese vielen Musiker, die es heute gibt in Europa, die also freie Musik spielen, das sind alles meine Kinder irgendwie. Ich meine, wir haben das in die Welt gesetzt, und die nächsten Generationen haben es übernommen.
In seinen aktuellen Bands vermittelt Gunter Hampel den jungen Musikern etwas, das man auf keiner Schule lernen kann: die Erfahrungen des Berufslebens mit all den dazugehörigen Schwernissen und Höhenflügen. Und er bekommt natürlich auch etwas zurück: eine frische Energie, die sich zusammen mit seiner Erfahrung auf das Publikum überträgt, ganz im Sinne einer alten und immer neuen Weisheit des Jazz "Time Is Now".
CD Gunter Hampel All Stars: Jubilation
Birth Records 0038
Track 3 (No 57) Waltz For Universes In A Corridor
K: Gunter Hampel
IMPROVISATIONS-FEUERWERK losgetreten !!!!!
"ERLEUCHTETE GESELLSCHAFT"
Glamour und Groteske: Das Land verleiht den Praetorius-Musikpreis bei einer Gala im Schauspielhaus Hannover von Stefan Arndt
…..daß die Geehrten durch ihre Aufführungen den Abend tatsächlich phasenweise Größe geben, spricht für ein gelungenes Auswahlverfahren…Mit dem Auftritt des 73 jährigen Jazzmusikers Gunter Hampel (Musikinnovationspreis) kommt dann endgültig Leben ins Schauspielhaus: Nicht nur, weil er mit seiner fulminanten Music+Dance Improvisation Company tatsächlich "Smiling Energy" ausstrahlt, sondern auch, weil er bei der Preisübergabe Sätze sagt wie "Mein Traum ist es, dass es eine erleuchtete Gesellschaft gibt" – und damit sogar Kulturministerin Johanna Wanka für einen Moment sprachlos macht. Daß Hampel kein esotherischer Phantast ist, erfährt man spätestens, als der renommierte und würdevolle Gambist Jordi Saall (internationaler Friedensmusikpreis) in die gleiche Kerbe schlägt und Musik als Weg zum inneren Frieden empfiehlt.
HN Hannoversche Nachrichten
since 1985 ! birth records offers a most unique service :we video-tape almost every concert of gunter hampel and make each concert available on DVDs or /and CD. this way you can be part of the incredible evolution , the music of gunter hampel is creatively taking and is and has been documenting.in his bands are always these special musicians,singers,dancers whose creative output and the sense for the incredible teamwork for which hampels music is known ,make each DVD-CD-LP jazz leading documents for inspiring generations to come.
don`t miss out on any of gunter hampel's world wide performances ,stay updated, order today. go live with us on tour by watching each concert at home on double DVDs for just 15,99 € + 2 € mailing in germany and 4€ mailing worldwide. we will be glad to send you our complete DVD-CD-LP list of famous past festival, club performances, recording sessions + our enjoyable children workshops, you can watch with your whole family. be with us "live" at the frontline . be live with us as if we were your favorite soccer team you watch each weekend. make this cultural adventure and thrilling live performances a part of your life ! enrich and expand your horizon !
"gunter hampel continues to be active at jazz-leading edge "all about jazz new york
"each new CD+DVD from gunter hampel are bulletins from the frontline of jazz"all about jazz new york
Und ja, da gibt es immer wieder diese großen Momente …. Ein paar Monate zuvor war es Gunter Hampel, der Pionier des freien Jazz, der beim Jazzlines-Festival mit einem Ensemble aus sehr jungen Musikern jene atemberaubenden Momente kollektiver Improvisationskraft erzeugte, die in der Musiktheorie mangels Erklärungsmodellen "Pulse" heißen."

süddeutsche zeitung andrian kreye 2o12
birth DVD 11o4o2 live at the jazzline festival munich
———————————————————————–
LOUIS ARMSTRONG came streaming from the radio of a US army truck 1945 in the backyard of his home in germany, and young Gunter, already immersed in European classical music, became intrigued with this new sound.A variety of intruments began to occupy his hands including clarinet,vibes,saxophone,accordeon and flute and soon he was composing.He toured EUROPE with many groups, including his own and worked with DON CHERRY-CECIL TAYLOR-ARCHIE SHEPP-ANTHONY BRAXTON-STEVE McCALL-MARION BROWN-LESTER BOWIE and his wife JEANNE LEE, among others.In 1969,when he moved to NEW YORK ,he founded his own label BIRTH
—————————————————————————————
birth records is proud to present the newest studio recording birth CD o7o721 STELLAR DUST-
GUNTER HAMPEL-JOHANNES SCHLEIER-MACHER DUO
recorded july 21st, 2oo7 in BERLIN-germany at REBIRTHatLOVELITE
bert noglik : STELLAR DUST -HAMPEL-SCHLEIERMACHER NEW CD
He always has been playing wonderful, free improvised DUOs with other Jazz Greats,with MARION BROWN,PERRY ROBINSON,ANTHONY BRAXTON,STEVE McCALL,SUNNY MURRAY,with the incomparable and unforgottoen JEANNE LEE…in musical dialogs unfolds his sensibility and joy of communication which distinguishs Gunter Hampel also as a great bandleader.With long-term-energy and creative sense of mission, he achieves to transport his music into Earth's orbit..(in contrast to those who complained or even gave up, he continues forever and creates his power also out of the magnificent tradition of jazz.Out of a music, which actually has to be defined as a movement to renewal
. Everything, we all debate about , he practically knew to solve:
a-the selforganisation of innovativ music.
b-how to address his jazzmusic towards young audiences.
c-the integration of the up-growing generations.
The opposition of american and european jazz bounces off of him, because he always was and is at home in both scenarios.
GUNTER HAMPEL knows very well,that jazz always had to fight against the crusts of the establishment to gain recognition and respect.
And in an exemplary fashion he developed survival-strategies with a modesty, which placed the music into the foreground and pushed the business into the background.
His vitality and his nearness to what people moves in their day by day life, let him never end-up-in-a-cloud-cuckoo-land and made it possible for him to re-dock to the social reality..because their development is by no means indifferent to him: he shows alternativs with his music.
as practised by other jazz greats he reflects beats and sounds of the young generations. He takes the expression-forms like breakdance and hiphop serious and and integrates them into his music, without to curry favour with the young musicians.
THAT TOO GAINED HIM A RECOGNITION FAR BEYOND JAZZ.
—————————————————————————————————————————
The "GUNTER HAMPEL MUSIC+DANCE COMPANY" HAS FOUND THE WAY INTO THE HEARTS OF A YOUNG GENERATION! The GUNTER HAMPEL EUROPEAN TRIO with the saxophonist Johannes Schleiermacher+the drummer Bernd Ozsevim is the instrumental center of the Music and Dance Company.
The DUO of GUNTER HAMPEL and JOHANNES SCHLEIERMACHER is operating as those 2 bands ultimate inner concentration of formative essence.
Gunter Hampel, the Guru who has been celebrating on August 31st his 7oth birthday,connects his, in decades collected experiences with an unbelievable young seeming spontaneity and flexibility. In a joint undertaking with the almost 5o years younger Johannes Schleiermacher, who joined Gunter's bands, when he was 17, 5 years ago, they play a music which seems to be a continuation of Hampel's legendary and pointing the way ahead, trendsetting GUNTER HAMPEL and his GALAXIE DREAM BAND, equally lyrically and expressive, free-floating and always with an spiritualized inner feeling for swing and drive. Bebop seems to be released in free-playing and all that together in a generation connecting ACTUALITY OF JAZZ!!
bert noglik,leipzig
order this brandnew CD stellar dust by eMail: :GuntHampel@aol.com 
————————————————————————–
GUNTER HAMPEL : The prolific vibist,bassclarinetist,flutist,saxophonist, composer and founder of BIRTH RECORDS , is the major instigator of Germany's free-jazz-movement, and whose American collaborators have included his wife JEANNE LEE, DON CHERRY,CECIL TAYLOR,ARCHIE SHEPP,ANTHONY BRAXTON, STEVE McCALL,MARION BROWN,PERRY ROBINSON AND MANY OTHERS.
HIS TRIO MIXES HIGH ENERGY IMPROVISATIONS WITH HAMPEL'S GREAT TUNES WITH DARK TEXTURAL MEDITATIONS
Village Voice,Centerfold New York
Gary Giddins 
————————————————————————–
new/neue "live" birth DVD o8o822 youngblood
GUNTER HAMPEL MUSIC+DANCE IMPROVISATION COMPANY live at the offside jazzfestival geldern 2oo8
gunter hampel-johannes schleiermacher-julius gabriel-bernd oezsevim-prince alegs-hichem-cemil-tom-
the ultimate performance of the 8tet. 4 musicians and 4 dancers do their incredible TEAM-WORK -THE NEW YORKER DOWNTOWNGALERY's BRUCE LEE GALANTHER wrote: THE GUNTER HAMPEL MUSIC+DANCE IMPROVISATION COMPANY offer with the DVD birth o71214 communicative encounters "a treasure box filled with audio and visual delights "!-the YOUNGBLOOD-DVD THEN IS THEIR MASTERPIECE: again : the growth of a steady ensemble like Hampel's is still the best way to proceed . the new yorker : ALL ABOUT JAZZ statet:"GUNTER HAMPEL CONTINUES TO BE ACTIVE AT JAZZ-LEADING EDGE: THIS PERFORMANCE IS A MUST FOR EVERYONE WHO WANTS TO KEEP UP WITH THE JAZZ-EVOLUTION AND HAVE THE THRILL AND FUN GOING ALONG WITH IT: —————————————————————————————————————————